LONDON PRICE ACTION SYMPOSIUM
SPEAKERS
Al Brooks

Larry Pesavento

Dr David Paul

Steve Ward

Tom Hougaard

OVERVIEW
1st April 2022 (optional) Live trading with Tom Hougaard and Larry Pesavento
2nd April 2022 Price Action Symposium speakers
3rd April 2022 Price Action Symposium speakers
PRICE ACTION SYMPOSIUM
On the 1st, 2nd and 3rd of April 2022, the world's first Price Action Symposium will take place in London. 
This event is the first of its kind. The greatest price action names in the trading industry, lead by Al Brooks, will come together to discuss trading techniques and price action setups.
LIVE TRADING (optional)
The event will kick off on Friday the 1st of April 2022, where Tom Hougaard will trade live, whilst lecturing on price action topics. He will be assisted by none other than Larry Pesavento, who will also trade live. 
Real accounts – real money – live before your eyes – it doesn't get more real than this. 
Tom Hougaard will navigate the treacherous Non-Farm Payroll numbers, that are released during the time he trades. He will also have to contend with ISM manufacturing numbers being released 30 minutes into the US trading session. 
Don't miss it!
THE WORLD'S PREMIER PRICE ACTION EXPERT
Over the course of Saturday the 2nd of April and Sunday the 3rd of April, the world's foremost expert on price action will take to the stage twice – as well as answering questions during the Q&A. 
Dr Al Brooks has 4 price action trading books to his name. There would be no Symposium, if he was not the primary speaker.
He will be accompanied by Larry Pesavento, Dr David Paul, Steve Ward and Tom Hougaard. 
SPEAKER LIST
Al Brooks No Price Action Symposium could be held without Al Brooks being the main speaker. His name is synonymous with price action, having written 4 seminal books on the topic, as well as a huge number of web-recordings and articles on the topic.
He has also authored an online price action course, running over more than 100 modules, covering price action in both stock indices and forex exchange. 
His work has stood the test of time, with tens of thousands of traders turning to him for guidance and training. Al Brooks will speak over two days – covering a vast array of topics of his choice.
Larry Pesavento The label "legend" is usually only applied to people who are no longer with us. Larry Pesavento however is a living legend in the trading world. He has authored 11 books on trading, and traded for 57 years, with time spent on the trading floors in Chicago. 
His book "Fibonacci Ratios with Pattern Recognition" has become a classic must-read for all aspiring traders. His knowledge of patterns and price action is as deep as his distinguished trading career. 
Dr David Paul David Paul has a background in mathematics and mineralogy, which he used to develop a revolutionary drill for the mining world. He started day-trading in the 1980's and has been an active day-trader and share investor for 35 years. Hearing David Paul speak is nothing short of a revelation. His knowledge of patterns is drawn from an intensive and dedicated study of price action and human behaviour for over 4 decades. 
He is, to our knowledge, the only person in the world who has isolated himself for an entire summer at the British Library, with the purpose of studying all of W.D.Ganns trades. Such is his dedication to speculation.
Tom Hougaard Tom Hougaard worked on a broker trading floor for the better part of a decade, trading while observing thousands of clients executing millions of trades. 
For the last 12 years he has traded his own funds. Today he runs a free Telegram channel, where he trades live every single day. Tom has written extensively on price action and is in the process of completing his book Confessions of a High-Stake Trader, which will be published in February 2022. 
Tom Hougaard is a 4-time winner of an annual trading competition in Denmark, with the incredible achievement of one year turning 250,000 Danish Kroner into 10m Danish Kroner. 
Steve Ward Steve Ward has over the last 16 years established himself as a force in the field of trading psychology, with large hedge funds, banks, commodities trading houses, energy companies and prop trading firms from across the globe hiring his services to optimise the performance of their traders.
His deep knowledge of the human condition in the context of risk taking is richly covered in his 4 books on trading performance enhancement.
WHAT EACH SPEAKER HAS TO SAY
The event runs over 3 days, with the Friday being an optional event for people to attend.
The main event is on Saturday the 2nd and Sunday the 3rd of April 2021. Over those two days Al Brooks will speak twice and participate in a Q&A. The two days will also feature speeches by Larry Pesavento, David Paul, Steve Ward and Tom Hougaard. 
On Friday the 1st of April there is an opportunity to observe Tom Hougaard and Larry Pesavento trade live for 6 hours. The Friday event is optional, meaning it can be added to the Symposium ticket, if you want to observe live price action trading. 
What does each speaker have to say about their time on stage?
AL BROOKS SAYS:
I will be speaking for 4 hours over the Saturday and Sunday, 2 hours each day. I will prepare 4 one-hour PowerPoint Presentations. Each will discuss one or more trades. I have selected a variety of types of trades, so I am able to show the students how to navigate markets under various market conditions. 
Each PowerPoint will begin with an 8- to 10-minute video of an entire day in the SP500 E-mini. I will greatly speed up the video during dead time to keep each video under 10 minutes. 
I will follow each video with a series of slides discussing the bar-by-bar management of each trade. I will then take questions for the final 15 minutes of each of the 4 hours.
DR DAVID PAUL SAYS:
I will be speaking for 2 hours on Sunday afternoon. My topic of choice is posing a question: 
Is Price frequently lying to you? 
Successful and consistent trading in today's fast-moving and complex markets requires a superhuman level of focus, awareness and presence.
In my two-hour session I will present several high probability, positive expectancy trading setups that can be applied to all actively traded markets and timeframes. These setups with entry points and profit targets focus on BOTH Price and Volume relationships.
On its own Price can lie but Price and Volume together rarely lie. A knowledge of volume can filter out many potential losing trades and more importantly produce trades that move quickly out of the starting blocks. 
Finally, I will discuss how to build the presence and awareness necessary for long term survival and success in the trading business.  
LARRY PESAVENTO SAYS:
On the Friday – during the live trading event – you get an opportunity to watch over my shoulder and see how I organise my trading day. I would like to show you the times you will most likely get a trading signal. I want to show you what patterns I pay attention to and what signals I ignore. Most importantly, I will show you how to manage your risk.
I will trade the markets in real-time with Tom Hougaard, and we will trade the SP500, the NASDAQ, and the Dow index, as well as FX, Crude Oil, Gold, and some soft commodities.
Most traders using ABCD patterns and ratios see only entry and stop mechanisms, completely missing out on the two biggest edges of all, hidden in plain sight.
During this live event, you'll see the tools you can use to generate consistent profits. You'll see when to use ABCD as a leading indicator, when not to, and how to use ABCD patterns within the larger trend, including the adjustment you should make if you're trading ABCD counter-trend.
Most traders are unaware of the larger cycles they are operating inside, and it's a massive edge if you know where they are. 
You'll see how to deconstruct ABCD patterns, how to break them down into component parts, and how to use them to identify the dominant short term and long term trends. 
In this live event, you'll learn what to focus on and why and how to use the rules I've used for decades to make consistent profits, including…
How to use market structure to force you to trade with the trend.

What most traders do when a pattern fails, why this guarantees they can't win, and what to do instead.

How to use ABCD to build an expectation for the next sequence of moves.

How to use ABCD as a risk management system.

The three patterns that help you identify shifts in supply and demand — not ABCD.

A trend change pattern that gives you early entry into the trend — you'll learn what to look for, how to prepare, and when to pull the trigger.
My mission is to show you how you can use these tools to help build yourself an edge using a market bias forty-nine out of fifty traders don't use and can't see.
STEVE WARD SAYS:
I will be speaking for 90-minutes on the Saturday afternoon, on the topic of 'Thinking Differently – The Psychology of Successful Trading'.
Many people take up trading, and only a very few are successful. One of the key differences between the successful ones and those who are not is their psychology – how they think.
In this session I will be covering the themes of why traders need to think differently, what to think differently about, and how to train your mind to think differently, and develop a winning trader's mindset.
Among the topics I will be covering are how think differently about trading, risk, uncertainty, fear, confidence, discomfort, money, learning, and performance can help you to achieve better returns from the markets.
TOM HOUGAARD SAYS:
Everyone is a chart expert. After the fact. To quote a German field marshal – "no plan survives first contact with the enemy". Mike Tyson put it differently. "Everyone has a plan until they are punched in the face." 
Trading to make ends meet, and to prosper, is not unlike being a soldier. On the training ground everything is safe and structured. In a war, there is no safety, but unlike the battlefield, you don't make money as a trader, sitting in the trenches. You have to engage.
My live trading session will run during the potentially most volatile hours in the trading calendar. I aim to show how in spite of all the potential pitfalls, all the stress of people watching, a simple well-chosen plan can be the difference between stress and calm, between shooting blind and aiming with poise and purpose. 
During my Saturday talk I will teach you the tools I use every trading day to generate signals. I will also talk about how I structure my life. I think it is important that people realise that a professional day trader at a high level means endless preparation and training. I would like to open the doors into my own regime, in the hope that it will help you.
Additional during my Saturday speech, I will disclose my proprietary entry techniques in indices like the FTSE. The mission of my segment is to uncover price action patterns that virtually no one has every seen. 
PROGRAM – DAY BY DAY
Friday the 1st of April 2022
11:00 Doors open.
12:00 Tom Hougaard goes through the trading plan for the Non-Farm Payroll.
13:30 Non-Farm Payroll is released.
14:30 US markets open.
18:00 Finish.
Tom Hougaard will lecture and trade throughout the 6 hours. Larry Pesavento will contribute with his trading setups.
Saturday the 2nd of April 2022
08:00 Doors open. 
09:00 Welcome speech by narrator.
Al Brooks 60min.
10:15 15min break.
10:30 Al Brooks 60min.
11:45 Lunch break.
12:45 Steve Ward 90min.
14:15 15min break.
14:30 Larry Pesavento 90min.
16:00 15min break.
16:15 Tom Hougaard.
18:00 Finish.
Sunday the 3rd of April 2022
08:00 Doors open. 
09:00 Al Brooks 120min.
11:00 Early lunch.
12:00 Dr David Paul. 
14:15 15min break.
14:30 Larry Pesavento 60 min.
15:30 15min break.
15:45 Q & A with all speakers.
17:00 Strict 17:00 finish (to allow people to catch flights).
BOOK OFFER
Wiley is the publisher of the Al Brooks books. They have agreed to sell the following books as a package deal with a significant discount.
# Trading Price Action Trading Ranges.
# Trading Price Action Reversals.
# Trading Price Action Trends Stock.
You will be given the books on the Saturday morning of the Symposium. 
TICKET TYPES
There are 4 kinds of ticket type, which fall into two categories. You can buy a ticket for:
Friday – Saturday – Sunday – with 3 Al Brooks books

£1,295, –

Friday – Saturday – Sunday – no books

£1,195, –

Saturday – Sunday – with 3 Al Brooks books

£1,110, –

Saturday – Sunday – no books

£995, –
HOTELS AND FLIGHTS
The venue is located moments' walk from Euston Square train station. The area in London where the venue is located is called Bloomsbury. There are plenty of hotels in the area, both luxury and budget hotels. There is also a large helping of Airbnb locations in the area.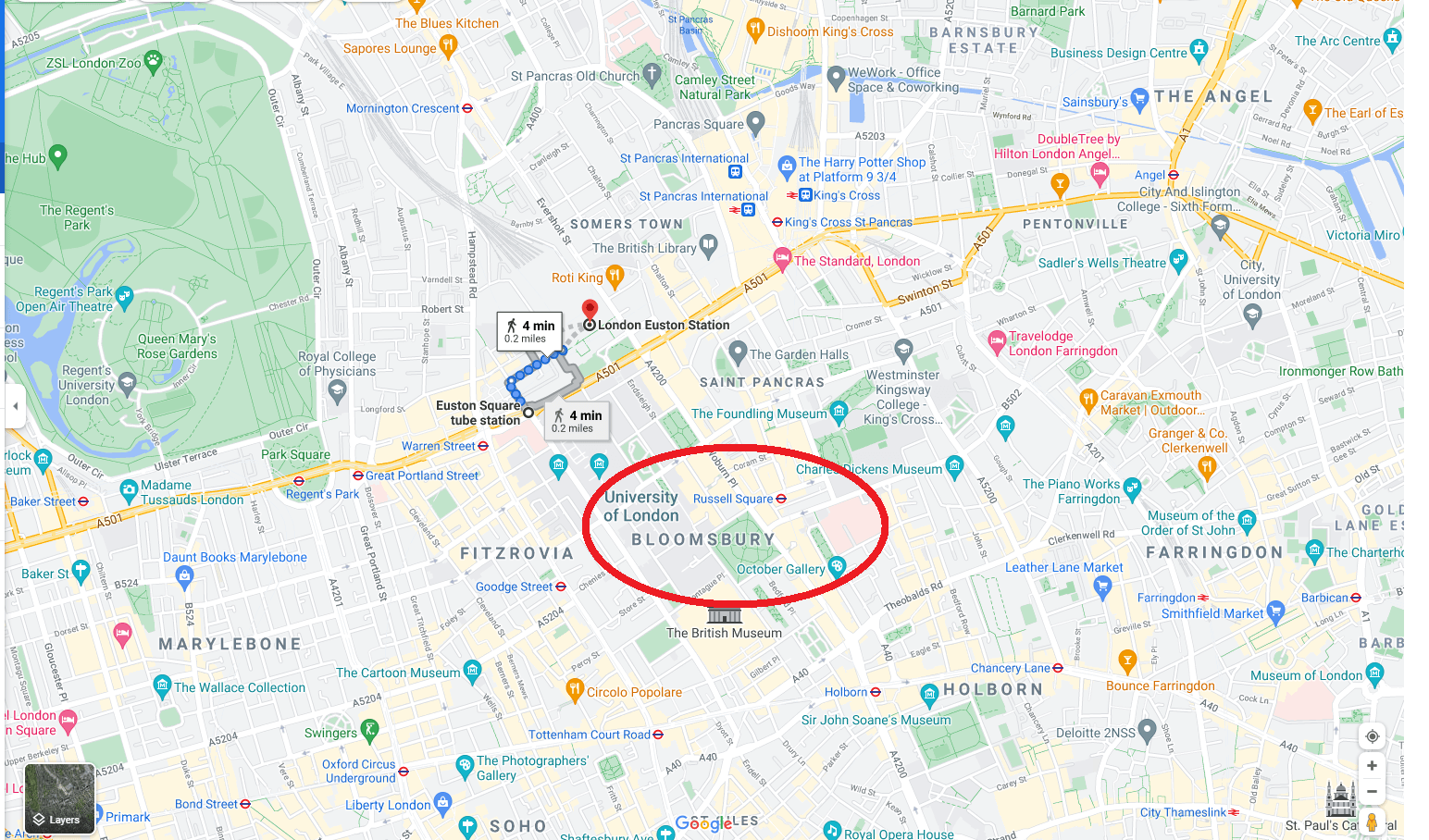 STANSTED AIRPORT
If you arrive at Stansted Airport, we recommend you get the Stansted express to London Liverpool Street station. From there you jump on the tube up to stations such as Warren Street Tube station or King's Cross St Pancreas station.
HEATHROW AIRPORT
If you arrive at London Heathrow Airport, we recommend you get on the London Heathrow Express to Paddington, and then catch a tube train to Warren Street or King's Cross St Pancreas station.
GATWICK AIRPORT
If you arrive at London Gatwick Airport, we recommend you get on the express train into London Victoria, and then make your way up to Warren Street Tube station.
FLIGHTS
EasyJet and Ryanair provide very cheap flights into Stansted or even Luton airport (which is an hour by train).